Like the last couple of years we rented an apartment at the Rena Fishing Camp and we were Gunnar, Henning, Anders, Lise and I. We also knew that Henrik would be there as he was supposed to guide now and then. But a week with dry fly fishing from a drifting pontoon boat is something I always look forward to. This will be a sparse post as I did not take many photos.
We knew from Henriks reports that the water level was low but we were not prepared for how much this changed the river. The level was 5 feet below normal and that made it much easier to wade fish what normally is quite challenging and all our normal hotspots for fish were dry. As the water come from a deep lake the water temperature was actually low around 14 degrees Celsius so in contrast to a lot of other rivers the fish were actively feeding and there was no problem with fishing C&R. If the water temperature hits 20 degrees the fishing will be closed. The air temperature were 26-30 degrees during our stay so we fished mainly in the evening and as the soccer world championship was running we also spent some time watching this.
I mainly aimed for the trouts and everyday we got some nice and strong fighting fish.
When a grayling showed I naturally presented my fly and often succeeded in landing af fish. The grayling quite big as you rarely catch fish below 40 cm and the average fish is 45 cm and they are much thicker and deeper than the fish we get in Glomma.
All the grayling and trout were released but one day Henrik fished for white fish to smoke so that made a nice meal one day. The other days we had to eat big steaks of wagyu beef and other delicious stuff. We must admit  that the eating and drinking is an important part of the trip.
We saw beavers on a regular basis. Normally for safety reasons the beavers nest has its door below the surface but with the low level of water that was spoiled.
We saw most of the beavers in the evening so it was not easy to get a good photo opportunity so this is a more evidence of the beaver than a nice photo.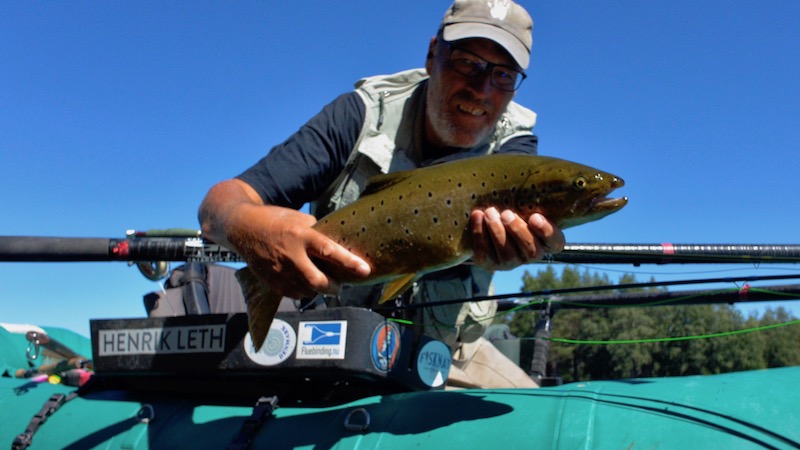 One day Henrik found a trout sipping mayflies and he got a real beauty around the 58 cm mark.
Release of another nice grayling.
One of the nicer trout caught just before we stopped the fishing one night.
Despite the low level of water we had some very good fishing with the dry flies and we like always had a blast with lots of laughs and we will come back one way or another again.
Filed under: Uncategorized | Tagged: brown trout, grayling, rena | Leave a comment »